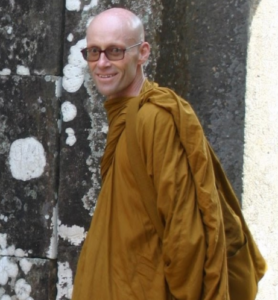 DHARMA AND VIPASSANĀ MEDITATION INTENSIVE led by AJAHN CHANDAPALO, SATURDAY the 25th of MAY 2019 from 4 pm to 7 pm. – Vicolo d'Orfeo, 1-RM. Any member can participate.
OPEN REGISTRATIONS ALSO FOR HEARERS: For all members who, although wishing, can not attend in person seminars and intensives organized by A.Me.Co. is provided the possibility of enrolling at distance learning courses, as HEARERS. The recordings will be sent, within one or two days by email in mp3 format, only to members regularly registered as hearers. In this way it will be possible to listen to the teachings offered and to any advice of practice, both formal and informal.
Ajahn Chandapalo is a Theravāda monk according to the Ajahn Chah and Ajahn Sumedho forest tradition, as well as the Abbot of the Santacittarama monastery in Frasso Sabino (RI).