Two wonderful days at the A.Me.Co. with Ezra Bayda and Elizabeth Hamilton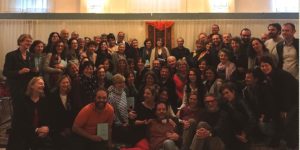 It was a wonderful intensive that took place at AMeCo at the end of April. Elizabeth and Ezra generously shared their trust in the practice of mindfulness and loving kindness.
The participants expressed with all their heart their gratitude both for the teachers and for the AMeCo which organized this important event with so much effort and care.
We inform that the AMeCo was able to invite two teachers from California thanks to the fact that from 2018 the Italian Buddhist Union has published its own calls for the Centers associated with it to be able, with the funds deriving from the revenue of the 8×1000, to organize events to spread Buddhism that otherwise, given the high costs of realization, would be impossible to offer to the many Dharma practitioners in Italy.